DETERMINATION OF MCPD ESTERS IN LIPIDS WITH THE USE OF SOLID-PHASE MICROEXTRACTION TECHNIQUE

Renata Jędrkiewicz, Agnieszka Głowacz-Różyńska, Justyna Gromadzka, Adam Kloskowski, Jacek Namieśnik
Organization(s): 1: Gdańsk University of Technology, Faculty of Chemistry, Department of Analytical Chemistry, Poland; 2: Gdańsk University of Technology, Faculty of Chemistry, Department of Physical Chemistry, Poland
 
Monochloropropanediols as food contaminants regained global attention in the past few decades with the discovery of elevated levels of 3-monochloropropane-1,2-diol (MCPD) and 2-monochloropropane-1,3-diol (2-MCPD) bound in the form of fatty acid esters in wide variety of thermally treated food products. The concern related to presence of these contaminants in different foods is bound to the possible release of free chlorinated propanols from their esterified form during digestion and their further metabolism which may cause nephrotoxicity and antifertility (proved by 3-MCPD toxicological studies on rodents). Because of the wide range of products possibly containing MCPD in free and/or esterified form, there is a risk for humans of exceeding the tolerable daily intake (TDI) set by European Commission in 2001 for 3-MCPD at a level of 2.0 µg per kg of body weight per day. That is why there is a need to monitor the level of MCPD esters in food products available for the consumers.
The aim of this work was to develop the analytical procedure for indirect determination of MCPD esters in lipid samples with the application of solid-phase microextraction (SPME) technique. The principle of the procedure is simultaneous extraction and derivatisation carried out on SPME fiber. Results obtained within the developed procedure were compared with those obtained by SGS "3-in-1" method.
Acknowledgements: The research was financially supported by Polish National Centre for Research and Development within LIDER project (grant No 11/171/L-3/11/NCBR/2012).
Renata Jędrkiewicz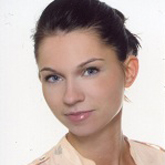 Renata Jędrkiewicz (born 1988) obtained her MSc degree in 2012 in Chemical Technology, after which she started her PhD studies at Analytical Chemistry Department in Gdańsk University of Technology.
During PhD studies she was gaining scientific experience during internship in Centre for Analysis and Synthesis at Lund University. Her research interests include food analytical chemistry (focused especially on vegetable oils), extraction techniques applied before chromatographic analysis, and determination of heat induced food contaminants, in particular chloropropanols and their esters in food lipids.
She is also interested in environmentally friendly sample preparation techniques, such as solid phase microextraction (SPME) and supercritical fluid extraction (SFE).