Ensuring the Safety & Authenticity of Food – New advances in LC-MS/MS Workflows Bringing Routine Ever Closer
Food testing can be a challenging and complex job. From sample preparation (so many different matrices!) to residue detection (so many different compounds from pesticides and mycotoxins, and not to mention the mysterious unknowns!), going from the raw sample to the final result of "What is in this food sample?" is no trivial task. And how do you know that the food is authentic? Are you really eating and drinking what is says on the outside of the packet?
Quckily, a number of analytical tools and workflows are available to ease the pain and help you to answer the question above, quickly and efficiently, but also with the confidence that you arrived at the right result, every time.
In this presentation, we will describe new advances in LC-MS/MS technology including software tools  that will make your food testing workflows more routine than ever. We will highlight new High Resolution LC-MS/MS instrumentation that can allow you to screen large samples sets for hundreds of contaminants and residues, whilst reducing the risk of reporting a positive results and lowering the likelihood of missing a result (fewer false positives).  We will also show new routines for bringing together both quantitation and identification data into a single, intuitive to use platform, for streamlined data interrogation, and touch upon novel ways to reduce troublesome matrix interferences.  And we will also show how the authenticity of food can be confirmed in a routine way using high resolution LC-MS/MS.
Jens Dahlmann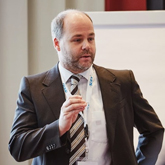 Jerns Dahlmann is a Product Specialist Mass Spectrometry with a wide range of experience in the analytical chemistry.
Able to work on own initiative and as part of a team. Proven skills involving demonstration, operation of SCIEX LC/MS/MS systems.
Experienced in trouble shooting of instrumentation as well as solving customer's application problems.
High degree of international experiences with SCIEX LC/MS/MS customers. Dedicated to maintaining high quality standards of the LC/MS/MS Application Support especially in African and Middle East markets. 
 
Experience:
 
Sep. 1999 – May  2004 DOCTORAL STUDENT, UNIVERSITY OF JENA,  Member of the research group of Prof. Dr. Bernd Luckas. Responsibilities and achievements:
Structure elucidation of natural compounds from freshwater as well as from the marine Environment.
Analysis of food contaminants and environmental samples according to regulatory law.
Operation of various analytical devices such as GC, LC/UV and LC/MS/MS equipment.
Implementation of analytical methods and offering analytical support (on-site) for foreign countries such as Vietnam, China, Canada, and Sweden in the framework of international projects funded by the E.U. and the BMBF (Bundesministerium für Bildung und Forschung).
Leading the ISO (International Organisation for Standardisation) working group for microcystin analysis, ISO 20179.
June 2004 - today Senior Application Specialist Mass Spectrometry for the Europe/Middle East Africa region *1)
RESPONSIBILITIES AND ACHIEVMENTS:
Provision of telephone, in-house and on-site technical support.
Support sales in the achievement of the orders plan by provision of demonstrations, sample analysis and technical information.
Training of customers on-site and in-house.
Numerous pre-sales visits in East-Europe, Russia, Middle East, and African countries in form of seminar tours, conference participations, and customer visits.
Editorial work within various ISO groups (International Organisation for Standardisation)
QUALIFICATIONS / EDUCATION:
April 1999 Diploma degree at the University of Oldenburg, Germany
 
Nov. 2003 Doctoral degree at the University of Jena, Germany, Dr. rer. nat. (summa cum laude)