Djien Liem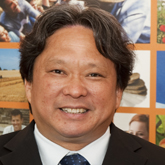 Dr. Djien Liem is Lead Expert in International Scientific Cooperation at the European Food Safety Authority in Parma. This position includes developing strategy and implementation plans for EFSA's international scientific cooperation with risk assessment bodies in the EU and beyond, leading projects contributing to broader recognition of EFSA's role and expertise, and representing EFSA at international activities aimed at the harmonisation of risk assessment methodologies and approaches. He first joined EFSA in 2003 as head of the unit which is providing the scientific secretariat of EFSA's Scientific Committee.
Dr. Liem began his career at the Department of Industrial Contaminants of the Dutch National Institute of Public Health and the Environment in Bilthoven. He chaired Dutch Working Groups on Dioxins in Food and on Dietary Intakes, and was national delegate in the framework of World Health Organization (WHO) studies on dioxins and related compounds. He co-ordinated together with the Swedish National Food Administration a pan-European Scientific Co-operation project from 1998-2000 on behalf of the European Commission concerning the assessment of dietary intake of dioxins and related compounds, and in 2000 he took up a secondment at the secretariat of the European Commission's Scientific Committee on Food (SCF) where he supported the SCF in the preparation of scientific opinions on various chemical substances in food.
Dr. Liem holds a PhD in biology from the Utrecht University and an MSc in environmental chemistry and toxicology from the University of Amsterdam.