NEW INNOVATIONS IN ICP-OES AND ICP-MS FOR FAST AND ACCURATE RESULTS WITH SUPERIOR CONTROL OF INTERFERENCES
Joerg Hansmann
Agilent Technologies Sales & Services GmbH & Co. KG
Hewlett-Packard-Str. 8
76337 Waldbronn
Today, environmental analysis must be done faster, more reliably, and more cost-effectively than ever before. Both techniques, ICP-OES and ICP-MS in environmental and food analysis need to run as many samples as possible in shortest as possible timeframe. To achieve unprecedented accuracy in a wide range of sample types, matrix and plasma based interferences need to be eliminated at least and order of magnitude below the critical value of regulations. Some applications furthermore need non interfered low concertation results down to instrument detection limit.
New Hardware and Software features for ICP-OES and ICP-MS help to overcome typical constraints where the accuracy of results are restricted by interferences. Application examples from ICP-OES and ICP-MS point out how this is done in routine analysis. New ICP-MS/MS has a combination of a transversal Quadrupole before a collision/reaction cell. This way the influence of matrix on interference removal with a reactive gas in the cell is minimized. The first quadrupole (Q1) is used to control the ions which enter the collision reaction cell. Interferences are eliminated by collisions or reactions in the cell, and the final quadrupole (Q2) is used to transmit the desired analyte ions to the detector.    
Joerg Hansmann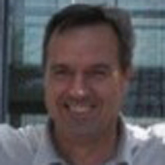 Joerg Hansmann is working as a Product Specialist for atomic spectroscopy at Agilent Technologies, responsible for ICP-MS, ICP-OES, MP.AES and AAS systems and solutions.
Before joining Agilent Jörg worked as an ICP-OES/ICP-MS Application Specialist at Fisons/ARL and Varian Inc..
Jörg Hansmann is a Dipl. Mineralogist with focus on Geochemestry.